Mid-term Business Plan "To Be a Good Company 2020"
Under our mid-term business plan commencing in FY2018, we set forth the concept - "To Be a Good Company 2020 - that Exceeds Customers' Expectations – as we aim to become "a company that provides customers with a sense of security, is selected by customers and constantly grows."
The business environment surrounding the insurance industry continues to change at a pace that appears to quicken daily, due to factors such as an increasing number of natural disasters in larger scales, demographic challenges caused by a shrinking overall population as well as an aging population combined with a declining birth rate, and rapid technological advancement.
Even amid such major changes in the operating environment, Tokio Marine & Nichido is committed to reinforcing its "ability to deliver" its products and services to customers while pursuing the types of products and services that accommodate the needs of customers and making progress in its plan to "change how we are selected by our customers." In addition, we will move ahead with our plan to "change how we work" by making the best of our people's skills and fundamentally altering the way we work to drastically increase productivity.
We will make every effort to pursue the quality level that is selected by customers and tie our efforts to sustainable growth as we strive to become a "Good Company" that is indispensable to our customers and Japanese society.
1.Overview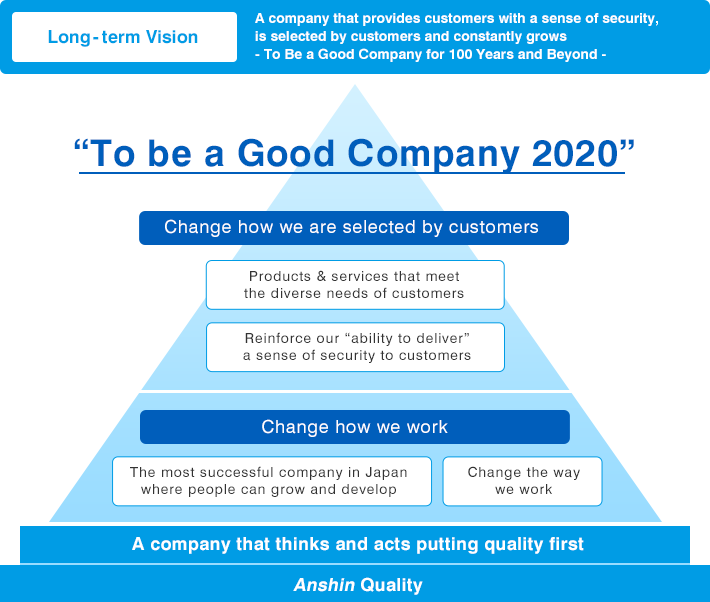 2.Initiatives under the New Mid-term Business Plan
(1)Change how we are selected by our customers

- Provide high-quality products and services that meet the diverse needs of customers by working together with agents who have a high level of expertise and stand by our customers -

Products and services that meet the needs of customers
Sharpening the life and non-life integrated business model
Making claims services our competitive advantage
Supporting for global expansion
Regional revitalization
Health and productivity management
Responding to emerging risks
Providing new added value services
Strengthening our ability to deliver products & services to our customers
We will bolster the expertise of our employees and agents, and make use of new technologies to create new points of contact with our customers.

(2)Change how we work

- Diverse talent pool working productively with high motivation and as a close team -

The most successful company in Japan where people can grow and develop
Diverse talent pool will work enthusiastically with high motivation and proactively take on challenges in various work in close teams
Change the way we work
We will implement work styles that are based on simple, easy-to-understand business processes that enable us to provide customers with products and services in a speedy manner.

(3)A company that thinks and acts putting quality first

In our aim to become a "company truly selected for its quality" by customers, we will thoroughly consider "what is the quality level that is selected by customers" and "what must be done to heighten our quality level" and each one of us will definitely enforce the "pursuit of quality" in practice.